Always stand BEHIND this guy
Time for some aggressive negotiations me thinks
For those not yet wise in the ways of FSW, don't be fooled by the screenshots into the mistaken supposition that this an action title because it most certainly isn't. At no point in the game do you actually point your gun at someone and pull the trigger although Ten Hammers does get a little closer to this mechanic than the original FSW. The game is a purely tactical affair wherein you take charge of two, four man fireteams labeled Alpha and Bravo, navigating them through urban and suburban townships and cities while taking every possible opportunity to neutralise those evil enemies of our precious western democracy, either by frontal assault or flanking maneuvers. The player is cast in no particular role in the game and instead is free to flip from team to team giving orders and observing the outcome. It may sound dull on paper but stay your judgment for just a while longer because, depending on your own particular gaming heritage and temperamental predisposition, Ten Hammers may well have something interesting to offer.
Getting some sleep in a mobile unit can
be complicated
The main single player offline campaign chucks your two fireteams into the war-torn environs of fictional middle-eastern state, Zekistan. Initially seen through the eyes of a TV journalist (not the cross-dressing type), the story is pretty standard military fare and bears more than a passing resemblance to the events of the Gulf War(s). Each new level sees your team delivered to a new location with the objective of reaching somewhere else in order to set some explosives, save a downed soldier or rendezvous with another unit and the like. Completing these objectives is a matter of using your two teams methodically and efficiently to cover each other's hides and make sure everyone maintains a full compliment of working organs. Viewed with a third-person-over-the-shoulder cam, the basic mechanics of Ten Hammers have you placing a movement cursor around the environment and then ordering a team to move there by either skulking slowly with weapons drawn and checking all directions for tangos or just pegging it and hoping for the lead-free best. Alpha and Bravo use various different team formations depending on their current situation and, for instance, ordering them to check or "spike" a corner will have them all line up in predefined positions along the adjacent wall while moving them behind a collection of barrels will see them use a square, two-by-two formation. The player is informed of all this via very nicely implemented symbols displayed in the bottom-right hand corner of the screen. Once in position the team can be given a "fire sector" which means they will automatically fire at any tangos straying into view while concentrating on those that inhabit the area of the screen selected by the player. There are also options to command all four team members to cover the defined sector or to leave two free who will keep the team's exposed flanks clear of conflict. When some evil henchman do wonder into the fray suppression and flanking become the order of the day, a standard engagement would involve one team laying down fire on the Zeke's while the other advances to a more advantageous position which gives a clear shot at the adversaries. Sometimes the layout of the environments may allow both teams to stay close and cover each other but more often than not Alpha will be left engaging an enemy position while Bravo will have to circle around the block, or a building to get a good position on the unsuspecting nasties and catch them in an inescapable crossfire between the two squads. Easier said than done though, believe me. While navigating to a better firing position the advancing team will frequently encounter further doers of dastardly deeds and then further complication ensues because the other team is pinned down and unable to support. It's in these instances that the new "buddy system" comes into play whereby each four man squad can be divided into two groups of two with each being controlled by either the black or white buttons.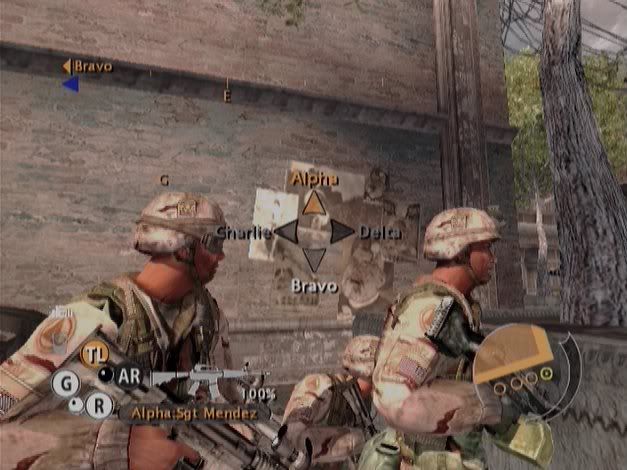 Middle Eastern crisis or not, 4pm is tea time
Spiking corners is bread and butter in Ten Hammers
There's a whole host of other available options to consider including use of frags and smoke grenades, areas can be scouted by individuals before committing a team to a possible ambush situation and buildings can now be entered and cleared giving the teams access to window positions which offer superior firing angles due to the elevation. Another new feature of the sequel is that each team member now has their own special ability which can be called upon in tight fixes, the team leader can snipe well covered enemies, the automatic rifleman can now put his SAW to good use by single handedly suppressing tightly grouped tangos and the grenadier can be used to flush out entrenched positions with a little under-slung explosive fun. Using these abilities is the closest you'll get to actually aiming the cross-hair and pulling the trigger in Ten Hammers as you can actually single out individuals for destruction but clicking the fire button still just orders your soldier to execute the maneuver and the overall level of abstraction is maintained. It's not a criticism because the lack of "action" in the game in no way detracts from it's quality and many will find Ten Hammers fresh and different as a result. Overall, the controls do take some getting used to and it takes a good couple of hours before they begin to feel natural but once everything is understood the system is both consistent and reliable with only the occasional bit of confusing cursor manipulation. The basics of the layout revolve around the idea of each button performing multiple functions, for example A is the movement button, it can be tapped to order your team to run to the selected position or move "tight" but holding the button for a second will bring up the movement menu allowing you to select the aforementioned skulking or "hot" movement, or scout the area for surprises. It all works very well and developers Pandemic Studios have done a great job expanding the system from the original FSW while not bogging the player down with too many tricky controls. There's a lot of available options concerning what can be done at any given moment and it's a credit to Pandemic that everyone of them has it's rightful place in the game with nothing becoming superfluous or moot.
Other noteworthy points include the occasional appearance of extra "Charlie" teams which can include guest characters and Bradley armoured vehicles, air support from attack choppers is made available on certain missions and civilians also frequent the levels adding further complications. One of the most important things to look out for during play is the presence of enemy safe houses. These are buildings labeled with the insurgent's symbol which must be fragged in order to stem the flow of cannon fodder from pouring out the door. Miss one and you could be very sorry a couple of minutes later when the safe house is behind you and the tangos start flooding out.
| | |
| --- | --- |
| British troops add a touch of humour | These boxes may only offer cover for a limited time |
Everything in Ten Hammers certainly looks the part, the main protagonists are very well realised and the detail in their animations really sells them as soldiers. Environments are also pretty much flawless with accurate representations of the disheveled areas and a lot of nice little touches such as smoke and dust add real atmosphere. Nothing in the game looks particularly stunning but at no point does anything stick out or appear out of place, it's all solid, convincing and represents what we have come to expect from this the final wave of last-gen titles. It is perhaps the audio that really shines in Ten Hammers, the musical score is excellent and juxtaposes the expected military themes with the altogether more eerie and disturbing quarter-tones of middle eastern music with deft and atmospheric precision. Not only that but sound effects are also very realistic and, most notably, the voice acting and the soldier scripts are easily some of the best and most natural yet seen in a game. The fireteam boys are frequently adding their own tongue-in-cheek narrative to events on the battlefield and the game can be played for many hours before repetition ensues. Much of the banter feels ad-libbed and fair warning, there is a lot of heavy swearing in Ten Hammers. The result is reminiscent of the verbal exchanges found in many wartime movies and it ends up feeling quite Full Metal Jackety and Platoonish at times. You know you're in trouble when the auto-rifleman announces "I've got F all for ammo", especially when it's followed up with "Aaaaaaargh, my F-ing leg!". Brits and Americans come across as hard as nails without patronising and all the squadies talk as though they really mean business.
Running for your life is a perfectly bona-fide tactic
Once the mechanics of the game have been mastered enthusiastic Livers will no doubt want to take the violence online and Ten Hammers delivers a nice line in multiplayer modes with, praise be, no lobby problems, lag or framerate issues. All single player missions may be played co-operatively with each player taking the role of a single fireteam and it works beautifully as an online experience. The nature of the game necessitates good communication between players and brings to light the diversity of possible approaches to various situations, care must be taken not to cross each other's fire sectors and timing is a critical skill to be negotiated between participants. It boils down to the fact that when two players work well in unison they are rewarded with casualty free level clearances but when one hesitates or tries to be a lone hero, claret will spill and air will be sucked in through gritted teeth. The flip side of the Live coin is versus mode which adds a few interesting new ideas to the mix, while one player takes the usual role of the fireteams, the other plays as the indigenous insurgents. While playing as the insurgents you only control one lone soldier at a time with the idea being to recruit civilians to the cause by taking them to safe-houses and then using the those stocks of available warriors to try and halt the advance of the western devils. The difference in play between the two sides adds a lot of tactical elements to the overall experience and is in essence comparable to the merc vs spy idea of Splinter Cell fame whereby each player utilises very different mechanics to overcome the other.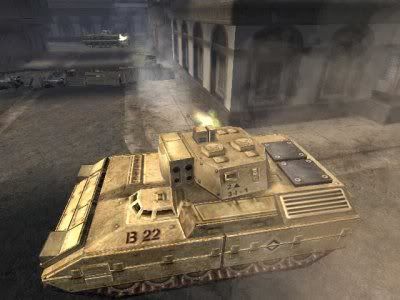 Bradley vehicles are playable units...give it some!
Ten Hammers certainly has a lot going for it and playing the game is probably one of the most interesting and unique experiences to be had on a console. It should be noted that Ten Hammers is very difficult at times, on medium difficulty and above the game mercilessly punishes any tiny little mistake and it's always the window you're not covering that harbours the rpg-laden tango's. Just one error in judgment, one innocuous little assumption and your men go down faster than a French lass backstage at a Robbie Williams concert. The upshot of the take-no-prisoner game mechanics is that when you do get it right and successfully navigate a tricky section, there's a lot of satisfaction to be gained. Although taking repeated attempts at the same areas over and again can also be underwhelming at times due to the inevitable memorisation of enemy positions and scripted events. There are times when the AI is decidedly dodgy and enemy units with perfectly good cover will start running around like headless chickens for no apparent reason but other than that it's actually pretty hard to pick holes in the game. Perhaps the biggest annoyance rears it's head when one of your units gets wounded in a firefight as he must be picked up and taken to a nearby Casevac (casualty evacuation) in order for a replacement to be issued. Trudging back to the Casevac can sometimes take a fair old while but most missions allow you to move the position of the Casevac as the level progresses. Jolly good job too considering that it's also your only means to refill your ammo supplies which can quickly run low after a couple of minutes of suppression fire.
It's most definitely not everyone's cup of tea due to the lack of immediacy and twitch-action but those looking for something fresh and different to get their teeth into will do very well to check out Ten Hammers. Although, to say the game has no action pays it a discourtesy because many critical choices must be made in a brief moment, thick with gunfire and confusion. What do you do when civilians stray into the line of fire? Keep firing and protect your team? Cease fire and fall back risking team casualties? Is your cover strong enough to hold position? Is the presence of apparent civilians a mere ruse designed to put you in a disadvantageous position? Yes, the game really does go that far to challenge your judgment and decision making and it's all the more enjoyable for it.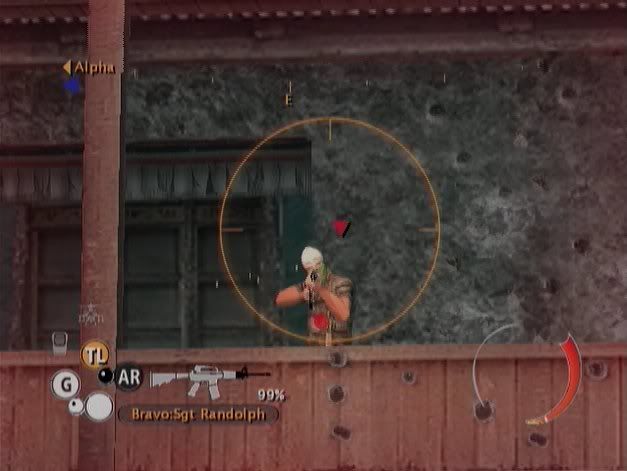 The red dot in the centre is good, the full red meter in the corner most certainly isn't
It's easy to see how the FSW series could be useful to potential infantry units in learning the function and methodology of fireteam tactics and anyone with an interest in the subject will find Ten Hammers very interesting and satisfying. It makes you stop for a minute and think about exactly what our lads oversees probably go through on a daily basis and is by far one of the highest quality titles to have hit the Xbox thus far in 2006. With a well thought out control system, an accessible user interface, some fine audio-visuals and fiendishly hardcore tactical gameplay, Full Spectrum Warrior: Ten Hammers is well worth a rummage in anyone's wallet, although it's probably safest to use your own. Then again.....!
It's when everything goes quiet that you should
really start worrying

Alpha pins 'em down while Bravo team is already
circling around behind them.....mwahahahaaaaaa
| | |
| --- | --- |
| Gameplay | > 8 |
| Graphics | > 8 |
| Sound | > 9 |
| Controls | > 8 |
| Longevity | > 8 |
| Overall | > 8 |
Spirit X