Review: Ghost Recon: Future Soldier 7.1 Surround Sound Headset
Jun 13 2012 06:46 PM | Mush xx in
Reviews
Ghost Recon: Future Soldier is finally here and you want to make sure you are playing with the best possible sound and controller, as with shooters it is very important you hear every sound from gun shells hitting the ground to footsteps behind you or the sound of a soldier reloading a clip. Well, what could be better than the specifically designed headset and controller to enhance your gaming experience? Looking and feeling the part is very important too.
Mad Catz range of 'gaming weapons' as they call the Ghost Recon: Future Soldier branded headset and controllers(review coming soon) have been designed to do just that; make you feel you really are in the game with sight, sound and feeling. Not only do they carry the Ghost Recon: Future Soldier logo but they also match being shades of Blue and Black. The headset has illuminated ear cups on the outside using bright White LEDs, whereas the controller has Immersive Backlit Analog Stick Modules. These are the first things you notice as you plug them in, but before that the packaging they come in is very impressive, although they won't stay in it for long.
The headset comes with every lead you would need to connect to your console, whatever setup you may have for both Xbox 360 and PS3. The amount of leads and bits is a bit daunting at first as there are so many, but they are marked with letters which correspond in the manual to your particular setup making it easy to find out what goes where. In fact if like me you have an Xbox 360 S it is extremely easy, an HDMI cable connects the console to the Dolby Digital decoder box (included) and the optical cable from the optical port on the console to the port in the back of the decoder box. With the older Xbox 360, you can either connect through HDMI, VGA or Composite.
Now that the decoder box is connected to the console, all is left is to assemble the actual headset. The headset comes with a flexible, removable microphone which is attached to the ear cup and which is easily moved to the position you find comfortable. Removable, so that if you are playing Single Player you can without it across your face, however it is easy enough to just move it out of the way. For Xbox Live the microphone is crisp and clear.
An in-line controller then connects to the 13ft / 4m braided Blue corded lead, in a suitable position you can reach when gaming and the other end into the decoder box. This along with a mute switch includes a master volume and voice communication volume switch, so you can adjust the volume of other people's voices and you also have the option to hear your own voice. You can turn your own voice on or off.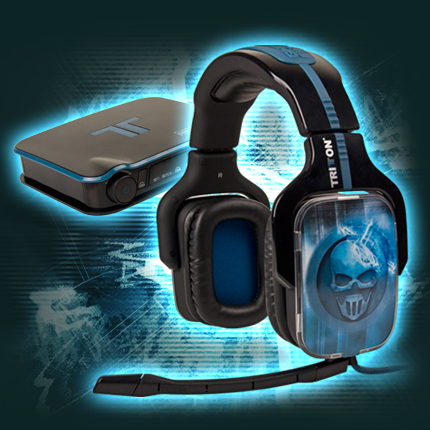 The Dolby Digital decoder box itself has loads of options, there is a game volume control, you can cycle through Dolby/ EQ modes, turn Dolby Digital, Dolby headset, Pro Logic on or off and there is a EQ indicator with Green for music mode, Blue for Movie mode and Off for stereo mode, because every Ghost needs to kick back and relax every now and again. The decoder box also comes with a stand so you can show it off in style whilst keeping it tidy.
The headset itself is not too heavy and sits comfortably without squeezing your head or feeling as if it is going to fall off. The ear pads fit comfortably and feel like cushions, you even get an extra pair, plus an extra head rail pad. There is an adjustable head rail which extends an extra 1.25 inches on either side. Three people have tried mine with different head sizes and they have all said they are very comfortable.
The quality of sound with these are impressive, better than the other Tritton Detonator Headset I have
http://www.xboxlivea...r-headset-r5373
and I can hear a lot more in the game, they bypass your TV so the Xbox 360 is using the optimal sound it was designed for. The bass is just right and the treble is excellent, they give the game that certain extra powerful boost, immersing you more into the game with their 7.1 Surround Sound. As an extra they also mute any external sounds, so no one in the room is going to interrupt you as you just cannot hear them.
I am totally in love with this headset, it ticks all my boxes, and the only quibbles I have are that the decoder box stand is a little unstable and is easily pulled over. Plus the LEDs may become distractive if playing in the dark, although they are on the sides of your head. Plus the decoder box is another thing to turn off when shutting down the console and they are not portable.
Tell N4G
4 Comments

Adverts are hidden for all 'Platinum Members' - sign up for just £10 a year by clicking here - your donation helps the site costs