Review: Tritton Warhead 7.1 headset
Sep 24 2012 12:38 AM | Mush xx in
Reviews
The Tritton Warhead 7.1 headset was first announced at E3 in 2011, it has been a long wait for a truly wireless headset, one which not only feels great but also adjusts to whatever you are listening to.
The Warhead is the first and only truly wireless Xbox 360 headset and this means no wires to connect a controller, it connects to one of the Xbox 360's quadrants by pairing with the console and headset with a press of a button, like you do with other wireless peripherals and takes advantage of Microsoft's chat system. It has 5.8GHz, eradicating any interference as usually devices use 2.4GHz and a range of 33ft- plenty. As it uses the wireless chat system, you also have a battery indicator in the Xbox Live guide. Speaking of batteries it comes with two, one which can be left on charge in the base station and the other which is placed inside the right earcup. So you need never run out of battery power.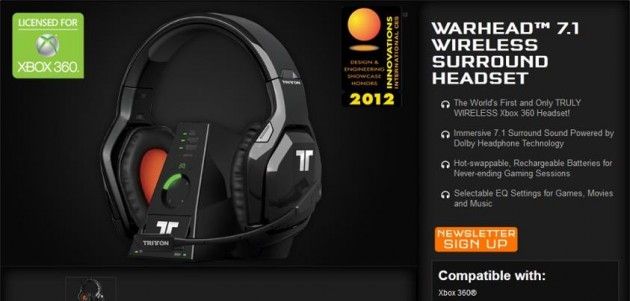 Connecting is extremely easy, once one battery has been charged and inserted into the right earcup; which is a compartment secured by a magnet. The base station plugged in and an optical lead into the back of the Xbox 360S, you then pair them and are set to go. Should you have an older Xbox 360 the leads are provided. There is a built in equaliser which you can cycle from music, games to movies. There is a good distinction between the three, but the movie one is my personal favourite, it gives a richer sound. Volume switches and mute for voice and game are at the back of the earcups within easy reach and you can turn your own voice on and off (SVM). The base station has been designed to echo the look of the Xbox 360, with the same quadrants and colour lights.
The headset looks very attractive with a polished glossy look and the ear cups with 50mm Neodymium Drivers, which are unique to the Tritton range, have been designed to fit completely over your ears to obtain that ultimate sound and to also cut external noises. It is extremely comfortable, not too heavy and doesn't feel like it would slip all things which are required when playing for long periods. The mic is removable, so if watching movies or listening to music you can do so without it in the way or you can just push it upwards. It is also bendable.
Now for the sound quality, first I tested the headset with the opening cinematic sequence of Halo Reach career mode where they are in the helicopter, the characters' voice were crisp and clear with the bass you would expect, not only this but you can hear things clearer you wouldn't before through a TV, the hum of the helicopter blades, to ambient noises outside. As the level begun, the sound of the rain set the ambience and shooting a few rocks, the ricochet of the bullets echoed around me. Things I hadn't noticed before and which this headset does a good job of amplifying.
Next on to Gears of War 3; the beginning of the campaign where you are lead outside to the first battle and as you spin around the walls erect themselves let out a bassy sound and seem to follow you, something you may miss without a headset.
Next on to Ghost Recon: Future Soldier, a game I had previously tested with the Ghost Recon: Future Soldier 7.1 Surround Sound Headset
http://www.xboxlivea...d-headset-r5649
and to be honest the Warheads immerse you more, they have an edge on them with a better sound.
I then moved on to listening to some music through Zune, this was crisp and clear with a deep, bassy, rich sound.
Having a private chat was a breeze, the other person's voice was clear and they could hear me well too. However the headset comes through very loud to the other person so ensure you turn down the mic beforehand.
As you can hear more with this headset footsteps in multiplayer games gives you an edge, you can hear where people are easier and so it gives you an advantage.
Perhaps the best part of this headset is using it with movies, it truly sounds like you are in the cinema. Using 7.1 Surround Sound, you hear every explosion, aftereffects, even the voices sound amazing. I asked my Fiancé to listen and he was amazed... wow! He said. Just like the games you can hear things you would miss, every sound.
Overall, I fully recommend this headset, especially for movies. It has enhanced my movie and game experience in an immersive and cinematic way; in fact I never use my TV's speakers and always use a headset. This one is now permanently connected. £199.99 may be pricey, but it is worth it.
Tell N4G
1459 Comments

Adverts are hidden for all 'Platinum Members' - sign up for just £10 a year by clicking here - your donation helps the site costs