Review: Two Worlds II
Jun 17 2011 04:06 AM | Mush xx in
Reviews
Sometimes you just can't choose your company
'That road and your journey begin here. Your voyage will take you from the incredible bustling cityscapes of Hatmandor and New Ashos, through the massive and stunning Antaloor countryside, all the way to the darkest forgotten corners of the world.'
Two Worlds was released in 2007 and was full of bugs, so the sequel you would have thought would iron these out and become more polished than its predecessor. Two Worlds II has improved on the first, adding a new game engine, a revised combat system, new enemies, improved animations and an enhanced AI, but it's not without bugs.
I first started playing Two Worlds II back in November, having got it rather early. I had done around ten hours and was getting into the game despite the pop up graphics, freezing when saving, slowdown when there is a lot on the screen and other problems. I decided it wasn't fair to review the game as it was; perhaps I had an unfinished copy and was hoping if I left it a few months a patch may come out and sort these issues out. How wrong was I? I put the game back on and these problems are still there even though there was an update. Nether-the-less, this deep and vast game has captured my attention once again and eaten up hours of my time, due to its addictiveness and my wanting to explore and uncover new areas.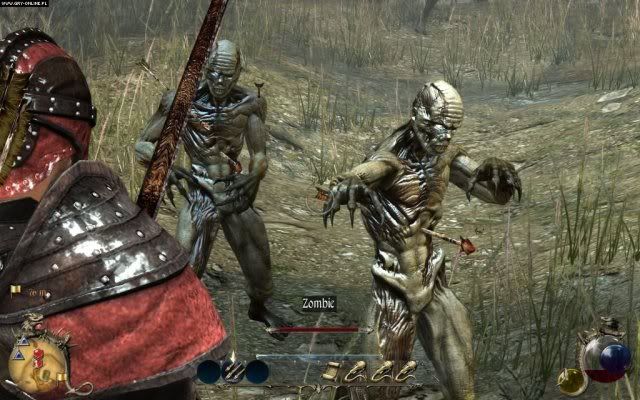 After an hour long tutorial which introduces you to the different skills needed and starts off the story; the evil king Gandohar has held you captive in the dungeons so he can further harness the power of the fire god that lies within your sister. Only one warrior with the combined power of two worlds can destroy this spell of evil and the people of Antaloor need your help. With the help of some Orcs you escape and set off to free your sister and bring an end to the tyrant, along the way there are many twists and turns. After escaping the dungeons you are free to explore the vast world.
Two Worlds II has such a vast landscape you will spend hundreds of hours just exploring and despite the pop ups and slow downs the scenery does look good, you can see the improvements with the graphics and as well as the countryside there are dungeons and cities to explore. For the first few hours it's a case of doing just this; exploring, finding where the teleports are, and unlocking quests by speaking to people, following the main story, building up your inventory and skills. You can explore on foot or if you come across a horse then you can use that, however the control of the horse is a bit tricky. There is also an item called Oculus Draconic, which is a disembodied eye which glides through the air and reports back to you, this also has a missile.
The game really doesn't open up until after the first chapter and it's a good twelve hours until then, depending on how you play and it's worth persevering as the deeper you get the better it gets. It is advisable to build your character up before you reach the end of the first chapter. There are four chapters to the main story and many side quests in each of the towns and surrounding countryside. There are mini games to play, instruments to play and a lot of people to talk to, books and scrolls to find and read, houses to buy.
The items you pick up along the way by defeating and looting can be crafted together, unlike the first game items of different kinds can be placed in a cauldron and crafted to make potions, each animal you kill has different ingredients and there are hundreds of ways you can craft them. There are also tons of items you will pick up and all too often find you are over the given weight and having to dismantle or sell some.
The weapons can also be crafted and they can be dismantled to elemental parts which are then used to upgrade other weapons. You can also add crystals to them to change their ability. You can assign different weapon sets to the D Pad, so with a press you can change to a mage, swordsman or an archer without having to load up the inventory to look for them. Mages will love the spell creation, you pick up spell cards along the way and can combine these to create spells and modify them in many different ways. Combat takes time to get used to and you will die a lot, especially at the beginning, every animal is out to get you and even the humble ostrich will kill you.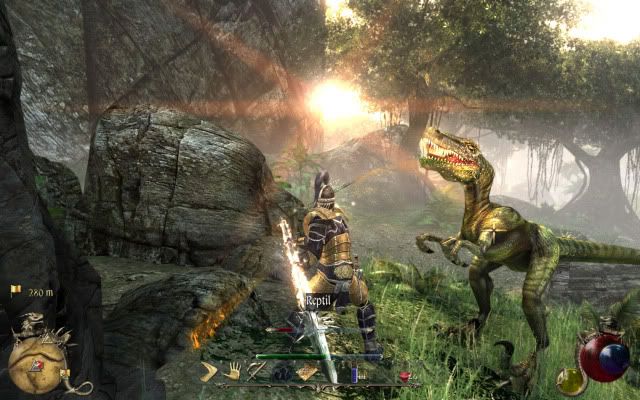 There are a great deal of customisations you can make to your character, you can dye his clothes, have the strongest armour or wear mage's clothes and there is a decent character creation system. The skill points don't force you to take a route, it's up to you where you want to spend them through a large selection of different skills, and you could put all of them on health and lock picking if you wanted to or create the most powerful mage. The skill creation is set into a deep tiered system, you choose to place attribute points, then skill points and through the six different skills you then have another eleven to choose from.
Multiplayer wise Two Worlds II offers, co-operative play, Deathmatch, a capture the crystal mode where you are placed in an open map full of crystals and skulls, you must pick up the crystals and avoid the sculls, there are switches to sabotage the other players, and Village Mode where you can build a village and invite others to your village. You can't bring your Single Player character into multiplayer they are both separate.
Despite the problems Two Worlds II is a very deep, vast game which has hundreds of hour's playtime. The more you play this the better it becomes, there are a ton of quests and ways to build up your character. It is an improvement on the first and a game which should be in your collection if you enjoy R.P.G.s and want something which will last.
8
Tell N4G
1 Comments

Adverts are hidden for all 'Platinum Members' - sign up for just £10 a year by clicking here - your donation helps the site costs