Review: Warp
Mar 12 2012 04:18 PM | Mechanical R in
Reviews
It's that time of the year again and the Xbox 360's biggest excuse to not go outside is back, bring on the Xbox House Party.
Week one kicked off the promotional season with the stealth puzzle adventure Warp. Warp takes the everyday traditional 3D puzzle game and puts a new spin on it with the ability to warp your character a short distance through or into objects. Immediately this will open up a whole new world of puzzle mind-buggery so thinking caps at the ready chaps.
When our character 'Zero' awakens to discover that he's been captured and experimented on by humans, his first plan is to get the hell out of there, using his special abilities to navigate the laboratories and on coming into contact with similar creatures to himself, Zero comes across new powers to expand the warping puzzles to even more crazy ideas. Whilst attempting to save friends, Zero's always looking on how to get out of the labs alive.
Warp is generally quite easy and simple to control, Zeros abilities are all easily assigned and the only real issue is trying to figure out half the puzzles, I don't know about you but my mind isn't used to puzzles where I can pass through and into objects and the like. So after a little time with the game, its safe to say Warp isn't a child's game, but then, here's where it gets a little confusing.
Zero is designed to actually look cute, yeah those beady little eyes and strange orange balloon like body was actually designed to make Zero look cuddly, so if were going for a cute vibe, why is it I can warp into human beings and make them explode from the inside in a more than generous helping of guts and blood to splash everywhere? Who on earth is this aimed at?!
So, with a slight confusion in the audience Warp is aimed for, Warp's complex puzzles may be enough to put players off. Starting off relatively simply, learning where you can and cannot warp between becomes quite easy. Getting around and past lab technicians and guards becomes quite natural. Once new abilities are brought into the mix, this is where the puzzles take quite a turn and can lead to many moments of being well and truly stuck only to find its something relatively simple. Something I like to call 'Portal Syndrome'
Along with the main game there are challenges which must be unlocked first by finding and activating them in the main story, these challenges range from warping from A to B quickly, to eliminating enemies. It would be nice to say these also gradually climb with difficulty though these challenges seem to be ramped up on hard from the get go, meaning you'll probably want to just ignore them on your first go round to try when you've got a better grasp of the game later. Add this to a rather stubborn, frigid gamer score; you won't be unlocking much in a hurry. For replayablity there are hidden film canisters and 'grub' hearts hidden all around the levels, some of these are easy to find, and again others require a whole lot more thought processes, sometimes, a few more than they're worth.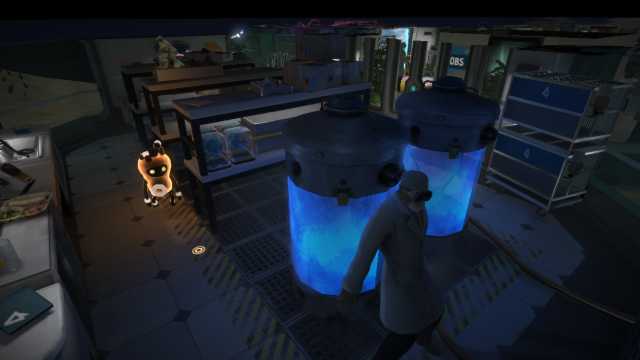 In all, Warp isn't the best of games to kick start the House Party season, though if you're looking for a new and different take on plat forming puzzle games then Warp might just be right up your street. Those looking for something a little more casual and easier on the brain cells, you may wish to hold out for a little bit longer. Warp is available now on the Xbox Live Marketplace for 800 Microsoft Points.

6.0
Tell N4G
1 Comments

Adverts are hidden for all 'Platinum Members' - sign up for just £10 a year by clicking here - your donation helps the site costs