Zune review: Thor
Sep 28 2011 02:06 AM | Mush xx in
Reviews
Xbox LIVE is not just about games. Your Xbox 360 can be used to watch movies, listen to music and to socialise; in fact it is a multi-media centre ready to entertain you.
In this first part of a series we are going to be looking at new releases on Zune. How Zune works, how easy it is to navigate and use. We will be looking particularly at the movies section and starting with Thor, released yesterday. We will cover them as they are released on the service.
We will be looking at value for money, quality, whether they are easy to find and whether they stream/ download fast and without problems.
Those familiar with the Xbox 360 dashboard would already be aware of the different tabs, one of which is the Video Marketplace, from here you can access Zune after a software download. Zune can be accessed with a controller or by Kinect using your voice to control playback and find movies. It also features a pretty big library of movies, music videos and independent videos. You can also watch movies in an Xbox LIVE party if you wish.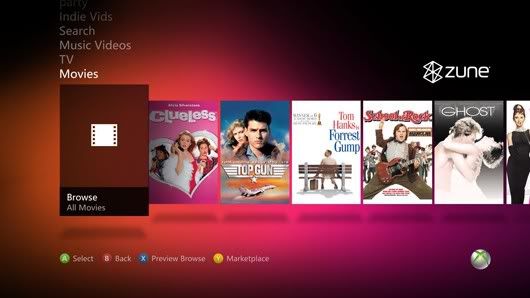 Once Zune has loaded you will notice several menus to filter and search the library, as we are featuring new movie releases we are looking for Thor in the 'Movies' menu and Thor was easy to find as it was the third one across. For older titles it may be necessary to click 'Browse all movies' to find the one you want where you can filter between genre, top and new releases. Strangely Thor was nowhere to be seen in New Releases. There is also a handy A-Z list, should you be looking for a particular title, but as Thor was easy to find on the first menu we didn't need to do this.
Clicking on Thor brings up a preview box along with several options below, usually you have a choice between HD (High definition) and SD (Standard Definition), Rental or Purchase and Stream and Download; however Thor was SD only and purchase only. It is particularly expensive compared to the other movies available at 1770 Microsoft Points (approximately £12) considering HD wasn't even available, but we are purchasing so can keep this movie in Zune's Video Library to watch again. The movie started immediately after purchase and ran smoothly with good quality picture and good quality sound through a surround sound set up throughout.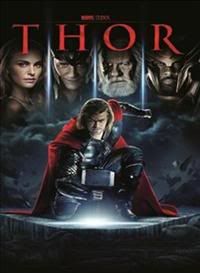 Thor is a Marvel Entertainment movie from the Marvel Cinematic Universe; it tells the tale of Thor, a warrior from a world called Asgard. After a battle which doesn't go too well, his father banishes him to Earth releasing him of his super powers and also his claim to the throne, leaving his brother Loki to take over the throne when his father falls ill. Meanwhile, the mischievous character Loki who Marvel games and comic fans would recognise, finds out some history about himself he doesn't like, wanting to keep his place on the throne and also to make his father proud decides to do everything in his power to stop Thor returning to Asgard even if this means destroying Thor and the humans he has befriended.
As you would expect Thor contains plenty of action, from the first battle pretty early on in the movie to the last battle at the end. Starting off in Asgard, Thor's homeworld we are introduced to the main characters Odin (Anthony Hopkins) Thor's father, Loki (Tom Hiddleston) and Thor himself (Chris Hemsworth) and it soon becomes apparent that in this fantasy world complete with a rainbow road which transports them to other planets they have a certain vengeance with a race called the Frost Giants and a visit to their destroyed planet is scheduled for a battle.
It's after this battle which doesn't go too well which Thor's father throws an almighty wobbler and removes Thor's powers, disowns him and sends him hurtling through what looks like a blue lit up trash disposal to Earth followed by Thor's almighty hammer Mjolnir after protecting it with a enchantment to allow only the worthy to wield it.
True to Marvel, Thor has fantasy elements and tries to tell the history of Thor, however the history is briefly told in a couple of places with more emphasis on Thor's visit to Earth which seems insignificant to the powers he possesses, as apart from a huge appetite for 'substance' as he calls food, a strange dialogue and greater strength, Thor seems not much different from the humans he befriends and the action comes from other characters. It's not until the end of the movie and a brief part at the beginning do we see these powers he can unleash, which is a shame. The parts we do see him using his powers have been done very well and it would have been good to see more of these.
Nether-the-less Thor is an enjoyable movie, which has been done very well, there are parts where the dialogue is funny and even a bit of romance. It runs for one hour fifty four minutes and streams very well; in fact you do not notice the steaming unless you lose connection. Just a shame it wasn't in HD which would make it even better.
Thor was a cinema release in April and has just been released on Blu-Ray and DVD as well as on Zune; however the convenience of not having to leave your living room or wait for a disc to arrive may have its advantages.
Tell N4G
1 Comments

Adverts are hidden for all 'Platinum Members' - sign up for just £10 a year by clicking here - your donation helps the site costs